Write on the River 2019
(an abridged) Winter Edition
February 15-17, 2019
WEATHER ALERT! Snow is in the forecast for the area starting Friday morning, becoming heavy by mid to late afternoon. The River Inn has graciously offered early check-in times so feel free to come early and burrow in. Snow is in the forecast for the entire weekend, dress warmly and travel safely!. It's going to be a beautiful weekend!
---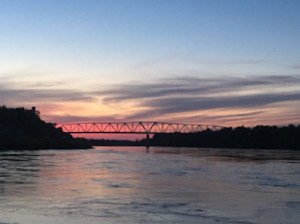 There will be ice on the river (we think), large chunks of it floating right past the deck of the River Inn. Sometimes (we're told), eagles and other wild creatures catch rides on that ice and float by like royalty on tour. Always (so far) our community of writers finds peace, permission, and productivity in the workshops and retreat time.
Please join us for our first Winter Edition of Write on the River.
We'll feed you and lodge you and encourage you to find the words to say what you need to say.
Again, our home for this limited enrollment workshop is the beautiful  River Inn Bed and Breakfast, a floating inn on the Missouri River in the historic town of Brownville NE.
The weekend will include one workshop of guided writing activities Saturday morning, led by the novelist Karen Gettert Shoemaker, gathering circles both Friday and Saturday evening for craft talks and discussions, and a celebration of shared words on Sunday morning.  And of course, you'll have the presence of the river for inspiration all weekend long.
---
Join novelist Karen Gettert Shoemaker for a weekend of peace, writing instruction and writing time in historic Brownsville NE.
This limited enrollment workshop will take place literally "on the river" in the River Inn Bed and Breakfast, a floating inn on the Missouri River.
Meals and lodging included.
---
Meet the workshop leader:
Karen Gettert Shoemaker is the author of the novel The Meaning of Names, and the short story collection Night Sounds and Other Stories. Her novel was selected for the community read programs One Book One Nebraska, 2016 and Omaha Public Library's Omaha Reads 2014. She has received a few other awards for her writing and teaching, gotten some nice grants, been published in some good, reputable journals, and has been accepted into a variety of writing retreats and residencies, but what really matters to you if you're reading this is that she really likes mentoring other writers and according to many reports and evaluations she's pretty good at it. She is always trying to improve her own writing and enjoys the company of other writers who are also on the path.
She holds a Ph.D. in Creative Writing and has taught creative writing and literature classes for more than 25 years. She is currently a faculty mentor with the University of Nebraska's MFA in Writing Program.*
You can find out more about her at www.karenshoemaker.com
* Note: Karen mentors at the University of Nebraska's MFA in Writing Program. It's a writing program you should check out at http://www.unomaha.edu/unmfaw/
---
Need details? We've got them for you.
Where will you be staying?
At the River Inn in Brownville Nebraska, floating right on the river!  We'll let the Inn speak for itself. Check it out at http://www.river-inn-resort.com/index.html
How much will it cost?
Cost for the weekend, including tuition, meals, and lodging in private room, (Friday evening through Sunday morning) is $409. Writers who have attended previous Write on the River events get a 10% discount
How do I register?
To register click on button in sidebar and you'll be redirected to a registration form.

What happens then?
After we receive your registration we will contact you with further details. Upon acceptance you will need to submit a registration deposit of $200. This deposit fee will be applied to the cost of the workshop. Balance due by January 10, 2019
Remember, limited enrollment!
A limited number of writers will be accepted to this sure to be fabulous weekend, so register early!  
We work on a first come first served basis here so don't take it personally if we say sorry, no room at the inn (pun intended).
Questions?  E-mail us at larksongwritersplace@gmail.com or click on "Contact" button at top of page.
---
Schedule
Day 1 - Friday, February 15, 2019
2 – 5 p.m. Check in at River Inn
5:00 p.m. Welcome reception.
6 p.m. Dinner – Dining Room
7:00 p.m. Gathering Circle.  
Day 2 – Saturday, February 16, 2019
8:30 a.m. - Breakfast - Dining room.
9:00 – 11:30 - workshop
Sack lunches available, quiet time begins at end of workshop
11:30– 6 p.m. – Writing Time - Mandatory silent time in public spaces
6 p.m. – Dinner Dining Room
7 p.m. – Gathering Circle - Bring a piece of writing that you love (written by someone other than yourself) to share with the group.
Day 3 – Sunday, February 17, 2019
8:30 - Breakfast
9 – Closing Celebration
11 a.m. – Check out
Workshop Notes: Our motto for the weekend is: "Peace, Permission, and Productivity."  With that in mind we ask that you are mindful of each other's need for solitude and silence. Please refrain from conversation outside of your private room until 8:30 each morning, and respect one another's desire just to be with the page all throughout the day. Keep conversations on board muted please.
·       Feel free to explore the area, walk the trails, and/or wander the streets of Brownville during free time.
·       Weather permitting I will be available for walk and talks with anyone who wants to discuss specific projects that you're working on. Bring warm clothes and boots - I love to walk in winter weather.