UPCOMING WORKSHOPS
WRITE IN GREECE*  September 5-13, 2020
A writing retreat and vacation in the city of Hermoupolis, on the Greek Island of Syros. 
*In association with and sponsored by Executive Travel and Lincoln writer Dorothy Ramsey
---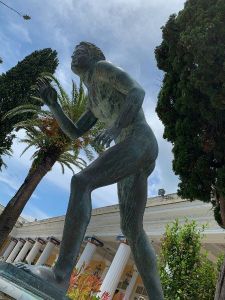 We are always on the lookout for new and exciting settings for our workshops. Wherever we land we'll find a way to feed you and lodge you and encourage you to find the words to say what you need to say.
Hope you can join us, wherever we go!
---
Meet the workshop coordinator and leader:
Karen Gettert Shoemaker is the author of the novel The Meaning of Names, and the short story collection Night Sounds and Other Stories. Her novel was selected for the community read programs One Book One Nebraska, 2016 and Omaha Public Library's Omaha Reads 2014. She has received a few other awards for her writing and teaching, gotten some nice grants, been published in some good, reputable journals, and has been accepted into a variety of writing retreats and residencies, but what really matters to you if you're reading this is that she really likes mentoring other writers and according to many reports and evaluations she's pretty good at it. She is always trying to improve her own writing and enjoys the company of other writers who are also on the path.
She holds a Ph.D. in Creative Writing and has taught creative writing and literature classes for more than 25 years. She is currently a faculty mentor with the University of Nebraska's MFA in Writing Program.*
You can find out more about her at www.karenshoemaker.com
* Note: Karen mentors at the University of Nebraska's MFA in Writing Program. It's a writing program you should check out at http://www.unomaha.edu/unmfaw/
---
Questions? Tap the Contact tab above.
---