"Women Write Resistance: poets resist gender violence" edited by Laura Madeline Wiseman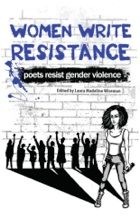 If you're looking for a book of poetry that will generate discussion at your book club meetings, Women Write Resistance: poets resist gender violence is your book. Be prepared for strong feelings. The poems in this anthology are not for the weak of heart. The subjects they address and the insistence on honesty and revelation that pervade the book does not make for an easy read. The uneasiness of reading it is best described in Ellen Bass's poem "Bearing Witness":
When "a child throws his aqua
lunch bag over the school yard railing, the last thing,
the very last thing you want to think about
is what happens to children when they're crushed
like grain in the worn mortar of the cruel."
As I read this book I kept thinking about the lines of a William Carlos Williams poem: "it is difficult/ to get the news from poems/ yet men die miserably every day/ for lack of what is found there." Women and children, too, I must add.
In compiling this collection Laura Madeline Wiseman had a mission to bring the thematic subject of these poems – violence against women – into the spotlight where the public could not ignore what is too often private, or ignored, or pushed aside.
"If poetry is action," Wiseman writes in the introduction, "if poetry is power, and if poetry is revolution, or at the very least has the potential to be," then these poems and these poets may change the world. A book with that mission at its heart isn't likely to be an easy read, nor should it be.
Wiseman posits poets achieve change by writing poems that break the silence, raise awareness, disrupt established narratives, talk back to the predators and perpetrators, focus anger where it belongs, and serve as a call to change and to action.
For this collection Wiseman chose poems from some of the best women poets writing today, including several poets with local connections - Lucy Adkins, Grace Bauer, Joy Castro, Becky Faber, Twyla Hansen, Hilda Raz, and Marge Saiser - to name just a few. Five years in the making, this anthology is the culmination of ideas and experiences Wiseman gained in graduate school and as a volunteer in domestic violence shelters and women's crisis centers. The critical introduction of the book still retains the dense academic jargon of a term paper, but nonetheless provides a framework for understanding the powerful poems the book contains.
To say it is not an easy read is not to discourage anyone from reading it. In fact, I think everyone should read it, not just book club members, and certainly not just women. As Monica Wendel asks in her poem "Sexual Assault Awareness Week", "but what if all the time spent on telling us/ what to do differently was spent on telling men, or everyone, not to rape?"
This book "challenges readers to find their method for social change and act."
"Reader," Wiseman asks, "what will you do?"