"Pro Bono: The 18-year Defense of Caril Ann Fugate" by Jeff McArthur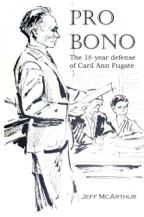 "The world still sees her as guilty, perhaps it always will. . . . But the truth is far more interesting." (from the Prologue)
Jeff McArthur's book does not set out to prove or disprove the allegations about Caril Ann Fugate's involvement in Charles Starkweather's murder spree of 1958. Instead he revisits the history of the case and tells it through the prism of his own family's relationship to it. The author's grandfather, John C. McArthur, was the court appointed defense attorney for Fugate. The research for the book depended heavily on the files at McArthur Law Offices.
"After decades of seeing rumors spread and lies presented as facts, I feel compelled to set the record straight, which is a major part of the reason why I wrote this book. But most of all, this is a book about my grandfather, a man who saw an injustice and fought against it for two decades, in the face of how unpopular it made him, even despite the death threats against himself and his family."
The book is as much an elegy to the late Lincoln attorney as it is an examination of the infamous case. By placing his grandfather in the company of the much-beloved Atticus Finch, the fictional hero of the Pulitzer Prize winning novel To Kill a Mockingbird, McArthur paints a picture of a man defined by his beliefs. His strongest held belief was in the value of service to others, which explains why he was willing to dedicate 18 years to this one case without hope of remuneration.
The book describes the murder spree that left 10 people dead, including Fugate's mother, half-sister, and step-father, the public terror all across the Midwest, the media coverage both during and after the trials, the problematic role of the police and their efforts to catch Starkweather before he struck again, the investigation, the trial, the legal team's efforts on Fugate's behalf, and Fugate's experience of growing up in prison. What the book does not do is answer the question: What was Fugate's role in the murders?
Despite that lingering, unsolved mystery, the book relates a story that raises intriguing questions about justice and our legal system, and about the nature of guilt. Fugate was 14-years old at the time of the murders. She was tried and convicted as an adult.
The book is an intriguing read for someone unfamiliar with the case as it distinguishes the true story from the myths that have grown out of it. For those readers more familiar with the story, the book provides new insights and information about Fugate that are unavailable in the bulk of the published materials. Only Ninette Beaver's book Caril comes close to offering such an in-depth exploration of the mystery that is Caril Ann Fugate.