"Other Heartbreak: Stories" by Patricia Henley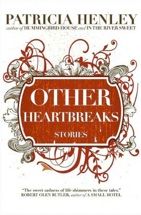 Reading Patricia Henley stories is like sitting down for a good long chat with a favorite cousin, the one who knows the background of every family story you want to hear but about which you were a little afraid to ask.
Her latest collection, "Other Heartbreaks," is filled with stories of labyrinthine relationships where the love the characters feel for one another is as painful as the tragedies that pull them apart.
Henley has a gift for spot-on assessments of what it feels like to live inside the roles life assigns us.
In "Emma Compartmentalizes Ireland," we find the mother of two adult daughters, one recently widowed, trying to balance her needs as a woman with her duties as a wife and mother. "If you have children, you're never quite whole again. There's a reason why they're called your flesh and blood -- gobbets and shavings, crumbs and scraps of your body careen across life's stage like Tinkerbell on Rollerblades. What mother doesn't wait for phone calls?"
To be absorbed in these love stories -- between mothers and daughters, friends and lovers, husbands and wives -- is to be held in suspension above the richness that life has to offer. As in real life, this richness is not all good, but Henley gives her characters the same choice of reactions we all have. This refusal to ignore the moral complexity of relationships gives the book great power. One can give up, run away, ignore the obvious, or one can press on, keep learning, keep loving.
One of the final images of the opening story, "Rocky Gap," is of a toddler crying, "Do again! Do again!" in response to grown-ups singing around a campfire. This image echoes the message of the epigraph: "You will always be having to get up from your chairs/to move on to other heartbreaks, be caught in other snares" (John Ashberry, "Some Words").
Both affirm Henley's premise that despite everything that happens, no matter how broken a heart, life goes on.
In the final story, "Ephemera," a new widow goes to visit an old family friend. "She recalled her father saying that Benny walked miles every morning along the lakeshore, rain or shine, to keep his depression at bay. Apparently, if you didn't want to lose your mind, you had to kick start the effort."
Through her stories, Henley reminds us that we have choices in the ways in which we negotiate our relationships and our reactions to them. This message is one of the reasons "Other Heartbreaks" has joined the other "keepers" on my book shelf.
Henley also is the critically acclaimed author of "In the River Sweet"; "Worship of the Common Heart"; "Hummingbird House," which was a finalist for the National Book Award and The New Yorker Fiction Prize; "The Secret of Cartwheels"; "Friday Night at Silver Star," winner of the Montana First Book Award in 1986; "Backroads"; and "Learning to Die." Her stories have been anthologized in Best American Short Stories and The Pushcart Prize anthology.
Review originally published in the Lincoln Journal Star, Jan. 2, 2012.