"Haven's Wake" by Ladette Randolph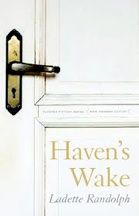 "'You know, Jonathon, yours isn't the only family that behaves badly when it's grieving.'
'I didn't say we were.'" Haven's Wake
It is human nature to want to be healed, to be free of pain, and for many people the death of a loved one intensifies and makes urgent that desire. At a time when we are most vulnerable to the slights of past and present, we can become as greedy and self-centered as infants, terrifyingly aware of only our own vulnerabilities.
In Haven's Wake, Ladette Randolph explores the complicated relationships of a deeply troubled Nebraska farm family. The novel peels back the veneer of stability over the family's lives and exposes a history of anger and sorrow. Set in the days between Haven Grebel's death and his funeral, the story is told through the perspectives of Haven's wife, Elsa, his oldest son, Jonathan, and his beloved granddaughter, Anna June.
For Elsa, it is a time not only of great loss, but of great danger as well, when her family swoops in to help her in the days after her husband's death. "They were all watching her . . . Too much a show of grief, she'd be seen as falling apart and at risk of them stepping in and forcing her to leave the farm she loved. Too little grief though and they'd conclude she wasn't facing reality. The people she loved most were her greatest threat. Her very independence relied on her ability to appease them all. She couldn't trust a single one of them . . ."
For Jonathan, the son who had left the farm for the city, it is a time of reckoning. He spends the days looking around the farm "as one does at last things," until he realizes "he could finally see his father for who he was – an old man who'd never intended any harm. His entire life had been devoted to the best of intentions, and Jonathan had been in a pissing match with that old man for forty years; he was still in one with his frail elderly mother."
For ten-year-old Anna June it is a time of growing up. "Anna June had things inside her no one knew about, things she would never tell anyone and tonight she saw how everyone had those places in them. She felt like she wasn't a little girl anymore."
The chapters from Anna June's point of view, though told in a simple, child-like language, present some of the most complicated aspects of the novel. Anna June is an artistic, inquisitive character, and one of her projects, writing the "True Secret History of the Haven Grebel Family" creates a catalyst that shows how deep-set differences of belief about God and individual responsibility can create chasms within a family too deep to cross.
In the end, no one will - or can - forgive the other; no one will - or can - change. And yet, Randolph finds a way to lead each of her characters to some safe haven, connected, if not to each other, then to one specific place on the planet - a farm in Nebraska. The circular structure of the book causes it to end where it began - on the morning of the funeral and on the brink of confrontation and sorrow. The refrain of the hymn the family sings together in that dark house on that dark morning, "This is my story, this is my song, praising . . ." renders the story of this family both heartbreaking and oddly heart-lifting.
Ladette Randolph is also the author of the novel A Sandhills Ballad, and the short story collection This is Not the Tropics.