"Crossing the Blue Willow Bridge: A Journey to Daughter's Birthplace in China" by Nancy McCabe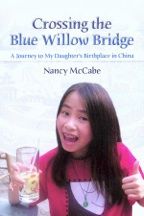 "This is not going well," Nancy McCabe announces in the opening line of her memoir about returning to her adopted daughter's birthplace in China. And so begins a story of thwarted expectations, relentless challenges, and the startling, heart-expanding ways in which dreams can come true.
Crossing the Blue Willow Bridge: A Journey to My Daughter's Birthplace in China begins near the end of the story when McCabe and her 10-year-old daughter have arrived at their destination, the orphanage where Sophie lived the first ten months of her life. They have come in search of information about a person they refer to as "the Man." Their only link to him is a picture taken ten years before when the Man, "probably a member of the orphanage staff," delivered baby Sophie to Nancy in a hotel in Hangzhou.
Upon arrival at the orphanage they first are told it will be impossible to identify the Man: the staff has changed, no one remembers him. McCabe's disappointment is tempered by the knowledge that the myths she has created for herself and her daughter will remain in tact. Then suddenly someone remembers something - more than she had dared to hope, they know who he is and they can take her to him. "Based on expressions and gestures I might have misread, based on a baby's giggle and grip ten years ago, we are flying down the highway to locate a stranger, veering down another road and into the countryside in search of the Man."
Careening between disappointment and joy, Crossing the Blue Willow Bridge is the story of two journeys woven together. One is a travelogue of the trip to China, a tour McCabe and her daughter took for adopted children and their parents; the other is a memoir about parenting an adopted child. McCabe presents the journeys through the lens of expectations, both her own and the culture's, and treats their complexities with insight, humor and sensitivity.
She doesn't shy away from the politics of foreign adoptions, nor does she linger too long on the subject. She never loses sight of the fact that the addition of a child to one family's life is a subtraction from someone else's, and though she maintains "a naïve confidence" that the basic needs of the children are more urgent than the politics of adoption, she also rankles at the "implication that money and comfort can compensate for a primal loss."
This book picks up where McCabe's first memoir, Meeting Sophie: A Memoir of Adoption, leaves off. Both books deal with the subject of foreign adoption, but their wider appeal comes, in part, from McCabe's ability to tell a good story in a way that reveals the universal joys and sorrows, as well as the heartbreaking ambivalence, of parenthood. "Some people think I 'saved' my child from an orphanage. In fact, it was she who saved me, every day. Or so I thought, still think, hoping I'm not delusional." The book is filled with such honest vulnerability, and that makes for an excellent read.