"A Far Allegiance" by Roy Scheele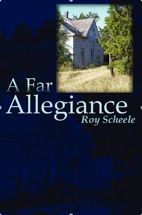 Roy Scheele
The Backwaters Press
2010
ISBN 978-1935218142
Roy Scheele's latest book, A Far Allegiance, indulges this fiction-lover's craving for story even as it delights with compelling poems that touch on the commonness of daily life and celebrates both the grotesque and the beauty of this world.
Consider these opening lines from "Fishheads":
"As high on the wall of the chicken shed
as he could reach, my grandfather kept
the heads of the catfish that he caught,
each one impaled on a bright ten-penny nail."
This opening recalls the evil Kurtz from Conrad's Heart of Darkness and the ending of the poem stays bound to the grotesque with the image of weathered skulls adorning the shed, but the middle of the poem, which is a familial glimpse of a grandfather sitting down to tell stories to his grandkids, creates a conflict not so much within the poem itself, but within our expectations of character, and sets a story into motion in a mere 19 lines. The details, no matter how vivid, do not override the story they convey.
This story-telling aspect of his poetry is no surprise, of course. Scheele has been writing and publishing poetry since the mid 1960s and is the recipient of several international narrative poetry prizes. Read from front to back, A Far Allegiance, presents a tale of the transition from the innocence of youth to the maturity of a citizen in the world of art.
It is, in its individual parts as well as its totality, a collection of distinct clarity and vitality, and is described best in Scheele's own words:
"Like a hose turned on
at the side of the house
its water burbling and chuckling
off into the grass
at the other end
making a pulse and flash
in the gathering darkness"
(from "A Freshening").
Review originally published in Lincoln Journal Star, November 13, 2011.