First the Writing, Then the Books
The Importance of a Daily Writing Habit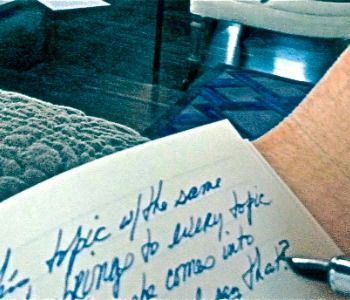 Almost every morning for the last three decades, I have greeted the rising sun with a cup of coffee and a journal in hand. If my schedule is too full too early and I can't take the time first thing, I make space later in my day to be with the page. When my kids were young that sometimes meant I eased my way through car pool lines and endless sports practices with a purse-size journal to keep me company.
Although some of what I write in these early morning ramblings becomes some of what I eventually publish, public consumption has never been the raison d'etre of the private writing.
Keeping a journal helps you acquire the habits of mind necessary to the writer's life: to be observant of events and people, to foster self-reflection and self-expression, to nurture creativity, to strengthen the ability to focus, to build and sustain an intimate relationship with language - with words, the tools of this chosen trade, and perhaps most important of all, it helps you remember what it means to be alive in this body, this now, this life.
"Art rediscovers, generation after generation, what is necessary to humanness," the writer John Gardner once said. For me, that kind of art begins in the privacy of journals and only then can it find its way into the stories and poems I want to share. 
If you develop a daily habit of writing, your deepest, best, most articulate self will already be accustomed to sitting down with you when you start the project - the book, the story, the poem - that you and only you can write. Work becomes play.