"Once you're up there you'll feel you've been flying your whole life and you'll wonder why you haven't been. The expanse of sky is so blue it's like swimming in the eye of God. The air up there is so fine and warmer than you'd expect. It might even remind you of the womb."
from "The Thing About Flying"
---
An award winning collection of stories
"A woman recalls the freedom and power of childhood games; a surprise anniversary party goes awry when the husband is hospitalized and the fault lines and strengths of a family are laid bare; a teacher rediscovers her calling amidst unthinkable tragedy; a lonely woman recognizes her responsibility to her sister's troubled life-in this collection of stories the prose and passion of life are brought together in ways that show both the complexity and the simplicity of living. Told against a Midwest background, the stories reflect universal conditions. This is what makes Karen Gettert Shoemaker's style so affecting and her stories so appealing. Her writing recognizes the preciousness of this life. These stories are told with a grace and elegance that belies their joyful art and craft."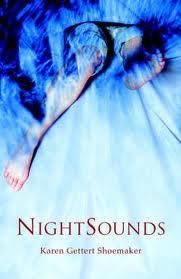 United Kingdom Edition
In Praise of Night Sounds and Other Stories
-- "This book establishes Shoemaker as a talented chronicler of rural life and domestic gestures, with an eye for what's funny in grief, and what's sad in humor." Publisher's Weekly 
-- "Short stories at their finest can be the ultimate in fiction: compressed gems that in few words can create memorable people and emotions out of thin air. Shoemaker's first collection contains such stories, and readers will laugh and cry at her spare portrayals of loss and friendship." Library Journal