"You are never too old to set another goal or to dream a new dream." – C.S. Lewis
Larksong Writers' Place is a long-time dream of mine slowly becoming a reality. Like Brigadoon, the mythical village of the 1954 movie of the same name, it doesn't exist on a map. Rather it rises up out of the mists of imagination and organization in the form of short-term, limited enrollment workshops held in inspiring locations and led by professional published writers and teachers.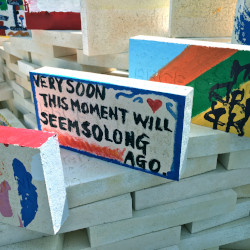 If you've dreamed of living the writer's life, of finding a community of like-minded souls, or of simply trying to find the connection between your ideas and the page, the time to get started on that dream is now.
Our second Write on the River workshop will be held in late September this year at the River Inn Floating Bed and Breakfast.  Check out the "Write on the River 2017" page for more information about that particular workshop. More workshops in more locations are in the planning stages. 
For individual writing consultations and mentoring, check out the "Mentoring" page for more information about the services offered.
---
Larksong Writers' Place Mission Statement:
By combining a comfortable and beautiful space with professional writing support, Larksong Writers' Place fosters the artistic development of creative writers from around the world. In offering retreat space, on- and off-site workshops, and on-line mentoring Larksong seeks to form and support a community of writers helping writers toward a goal of improving each individual's craft and the collective growth of the creative writing community as a whole.
Mentoring and Manuscript Consulting are also a part of the Larksong dream, activities that bring professional teachers together with new and aspiring writers of various genres and experience.
I began looking for a permanent home for Larksong a couple of years ago and at the same time drafted a business plan for the dream. As an artist who is far more comfortable wandering around inside my own head, I admit this has been neither an easy nor a seamless process. What has kept me going in the direction of the dream has been a series of odd and unexplainable exchanges with people along the way. People unknown to each other and others known only lightly by me have literally dreamed of being there. The descriptions they bring back from their sleep-state visions are specific and weirdly similar. I've come to believe Larksong already exists somewhere, I just have to find it. I'm waiting patiently for someone to come back from the dream world with an address and a contact number.
In the meantime, I've drafted a business plan, the sort of thing that may help bring bankers and business people into the dream.